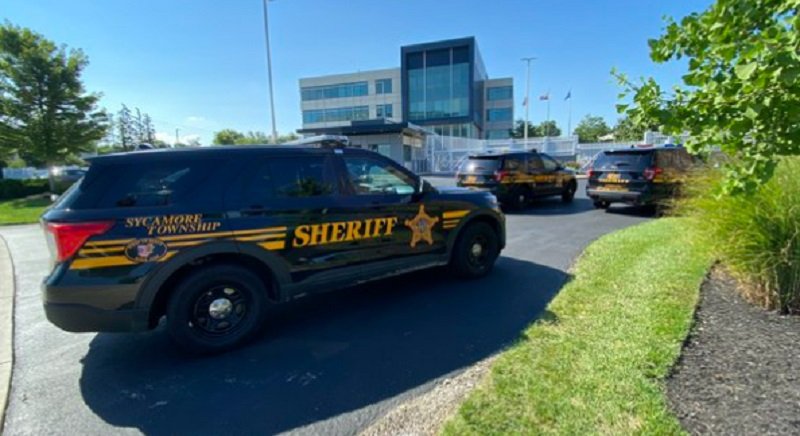 BREAKING: Ohio State Highway Patrol Exchanges Gunfire With Armed Man Attempting to Break Into FBI Building

O

hio State Highway Patrol exchanged gunfire with an armed man attempting to break into the FBI building in Cincinnati on Thursday morning.

The suspect took off on I-71 towards Columbus and the pursuit eventually ended near W. State Route 73, according to a report from Fox 8.

During the chase, the highway was shutdown in both directions as multiple agencies attempted to apprehend the suspect.
At approximately 9 AM this morning an armed subject attempted to breach the Visitor Screening Facility at #FBI Cincinnati. After an alarm and a response by FBI special agents, the subject fled north onto Interstate 71. pic.twitter.com/vFZHnpbM9L

— FBI Cincinnati (@FBICincinnati) August 11, 2022
All buildings within a one mile radius of the FBI headquarters were also placed on lockdown.
HAPPENING NOW IN CLINTON CO:
Lockdown.
Please stay inside and lock your doors. pic.twitter.com/1Kb3HuDMXu

— Kelly Rippin WLWT (@KellyRippin) August 11, 2022
The armed man was reportedly making threats as he attempted to breach the building, but it is not clear what those threats were at this time.
Potential threat at the FBI Cincinnati headquarters. FBI says the suspect was armed but the kind of weapon isn't confirmed. Suspect took off north on I-75. A scene has developed in Clinton County. @WLWT pic.twitter.com/tWD6pA8CF5

— Michael Carnevale (@VideomikeWLWT) August 11, 2022
According to reports over the police scanner, the suspect was a "white male."
"Blood splatter on his shorts. Right thigh area," an officer in a police helicopter said over the radio, according to a report from the News Journal. "Part of windshield shot out … Suspect on knees, holding rifle."
#BREAKING: There is an active shooter reported near the FBI building in Cincinnati, OH threatening agents. The Federal Protective Services have arrived on scene for a full sweep. The scene has now turned into a police pursuit.pic.twitter.com/kQZPkKZ3vH

— Hunter Cullen (@HunterJCullen) August 11, 2022
"Rifle down for the moment. He is on his knees," an officer said over the scanner at 10:24 a.m. local time.
The incident is taking place just days after the agency raided Donald Trump's residence at Mar-a-Lago.
FBI director Christopher Wray has claimed that there have been threats against him and agents in the aftermath of the raid.
"I'm always concerned about threats to law enforcement," Wray said during a news conference on Wednesday. "Violence against law enforcement is not the answer, no matter who you're upset with."
This situation is ongoing and this story will be updated as more information becomes available.
The post BREAKING: Ohio State Highway Patrol Exchanges Gunfire With Armed Man Attempting to Break Into FBI Building appeared first on The Gateway Pundit.